The park stands in about twelve and a half acres and comprises 195 plots for privately owned holiday caravans, and a further 43 pitches for tourers, tents and camping pods.
We're about 3/4 of a mile from Seasalter beach, and Whitstable and it's harbour is just over two miles away. The Tourist Board inspectors have awarded us a Five Star rating and our camping field loos have been awarded Platinum status in the Loo-of-the-Year Awards.
The park has been in existence since the 1950's, maybe earlier, and was owned by the Dench family until 1990 when the Boggia family took over the park, and then in 2022 the Kent family (Keat farm Caravans) took the reins. Keeping a family feel to the organisation is important to us.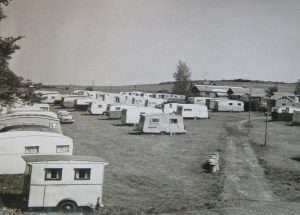 Back in the day . . .


Who are we?
Dan the manager lives here on park. Helping him out are Gail & Linda who take care of book-keeping and admin, Terry, Lynsey & Dawn who help keep the camper's shower block clean and shiny, and Kelly our gardener. Stella in the clubhouse is ably assisted by her daughter Jess.
---
Dan Jackson
Park Manager
Stella Snashall
Clubhouse Manageress