The park stands in about twelve and a half acres and comprises 195 plots for privately owned holiday caravans, and a further 43 pitches for tourers, tents and camping pods.
We're about 3/4 of a mile from Seasalter beach, and Whitstable and it's harbour is just over two miles away. The Tourist Board inspectors have awarded us a Five Star rating, we have a 4 Pennant AA rating, and our camping field loos have been awarded Gold status in the Loo-of-the-Year Awards.
Our roots can be traced back to 1947 when a young Bill Boggia had a couple of wooden caravans in his father's field in Seasalter's neighbouring village of Graveney. Bill's son Graham joined the industry in 1983, and keeping a family feel to the organisation is important to us, the husband and wife managers on the park reinforcing this ethos.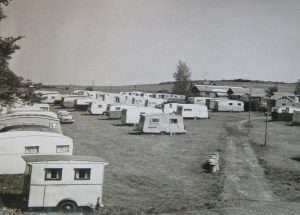 Back in the day . . .


Who are we?
Grant & Annouschka joined the team recently, and with their assistant Dan they all live here on park. Helping them out are Gail & Linda who take care of book-keeping and admin, Lynsey & Nicola who help keep the camper's shower block clean and shiny, and Dawn our gardener. Stella in the clubhouse is ably assisted by her daughter Jess.
---
Grant Day
Park Manager
Annouschka Day
Park Manageress
Dan Jackson
Assistant Manager
Stella Snashall
Clubhouse Manageress